Young Adults (18-40)

The Young Adults, 18 to 40 group at Hyde Park Presbyterian, is a community of Christians encouraging each other in their walk with God.   The group meets on Monday evenings from 6:30 to 8:00 (dinner provided) in the Youth House (612 S. Willow Avenue,  next to the church parking lot) for discussion on a variety of topics.  Nursery is provided with a reservation deadline of Sunday.  Contact Jett Tanner, jett.tanner@gmail.com or (813) 625-0251.
BodyBuilders (40s, 50s and 60s)
The BodyBuilders Social Group ("building the Body of Christ") is Hyde Park Presbyterian's baby boomer-aged social group, for couples and singles.  The BodyBuilders meet 4 -5 times per year in the relaxed setting of members' homes for dinner and fellowship.  Newcomers to the church as well as long-time members are encouraged to attend and volunteer to coordinate social activities.  Contact Jane Brannan at ABran3@aol.com.
Prime Timers (70+)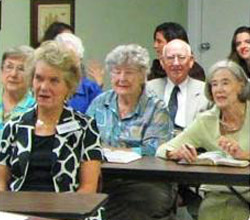 The Prime Timers social group includes folks who are 70 years young (or more). Events are usually held at the church; members take turns hosting and arranging for food. The group also participates in special events such as their annual Christmas Party and field trips; these events give HPPC seniors opportunities for fun and fellowship.
For more information on upcoming events please call the church office at 813-253-0069 or email Jen at jpadua@hydeparkpres.com .