Missions
Helping with the various mission efforts that are available through the Hyde Park Presbyterian Church is one of the best ways to make friends in the church, while serving Christ and helping others.  Every 3rd Saturday from 10:30am to around 1pm, members of the church serve clients at Faith Cafe, a local ministry assisting the homeless.  Faith Cafe has reopened in its new location at 1340 Clearview Avenue. Members are also assisting First Presbyterian Church by serving breakfast to the homeless on the first Saturday of each month, except December.
Our church's mission statement calls us to reflect Christ's love and character through service. The church provides other opportunities for service throughout the year. Members collect school supplies for migrant families in the summer, food for End 68 Hours of Hunger during Lent, and gifts for needy children during the Christmas season.. Last year people also packed food for Feeding Children Everywhere and helped hand out food in the Second Harvest food distribution truck.
Members also support, with their offerings, charities that focus on providing basic needs to people who need a hand up.  These include Faith Cafe, Metropolitan Ministries, Bethel Ruskin Mission, Meals on Wheels, Feeding America Tampa Bay and Judeo Christian Health Clinic.  For the past five years, we have supported a nursing student in Haiti through Haiti Nursing Foundation and she is now training to become an instructor in the school. A new student is now under our care and support.
Recently, the Mustard Seed Ministry has begun. Members of this ministry will serve in a mission capacity one Saturday each month. Projects will change and right now, the ministry is helping serve breakfast at First Presbyterian Church in downtown Tampa. You don't need to be a member of the church to serve and put your faith in God in action helping His children. If you wish to help at either First Presbyterian or Faith Cafe, please email  missions@hydeparkpres.com or call the church office.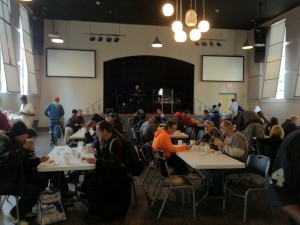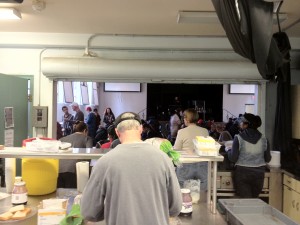 End 68 Hours of Hunger is a private, not-for-profit effort to confront the approximately 68 hours of hunger that some school children experience between the free lunch they receive in school on Friday afternoon and the free breakfast they receive in school on Monday morning. With no paid employees, End 68 Hours of Hunger is supported by volunteers only who purchase food, pack bags and deliver them to the offices of participating schools. From there, a school employee delivers the food to the classrooms of the individual students in need. The students take the food home on Friday afternoon. The cycle starts again, every week. Each bag of food costs $10 each week per child and provides two breakfasts, two lunches and three dinners, with some left over to share.
Hyde Park Presbyterian Church is the headquarters and pantry site for the Tampa Bay area. Donations may be received year round at HPPC's administrative offices, Monday through Thursday during normal business hours and Friday from 9:00 a.m.-1:00 p.m. You can also drop off food at Tanner Paint (4917 N. Armenia), On Point Executive Center (3030 N. Rocky Point Drive W., Suite 150) and Thomas &LoCicero (601 S. Boulevard), all in Tampa.Please help us restock our shelves to continue to feed the 38 children that are helped by this project.
If you have any questions, or would like more information about any of the mission opportunities, or to be added to an email list that will update you with service and missions events, please send an email to: