How to Find Hyde Park Presbyterian
Welcome!
How to find Hyde Park Presbyterian Church? Here are the times and location. We invite you to join us in worship and fellowship every Sunday. A live, in-person worship service currently takes place on Sunday morning at 10:00 am and is also available live here on our website, and on Facebook and YouTube.
Sunday Schedule (details below):
9:30 – 9:50       Coffee, talk & prayer
10:00 – 10:45   Worship, in-person and live stream
11:00 – 12:00   Classes for adults and children
9:30 – Noon     Nursery
Thank you for spending a few moments looking around our website. As a church family we are committed to share God's story of salvation with our neighbors through worship, service, learning and fellowship. Watch for us in and around the community as we serve others.
We hope that all people will feel welcomed here. Learn about our programs and get a glimpse of who we are. We'd love to get to know you.
Rev. James Friesen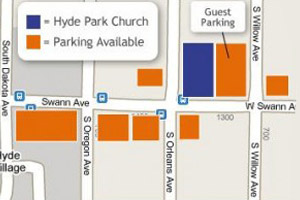 Directions & Parking
Hyde Park Presbyterian Church
1309 W. Swann Ave.
Tampa, FL 33606
Directions: Enter your address in the map below to get directions.
There is guest parking next to the Willow Ave. entrance of the Church. If you are a guest, we invite you to park in one of these spaces. Regular attenders may park elsewhere in the parking lot, on the streets,  or in one of the nearby parking lots shown on the map to the left.
We've made changes so arrivals are as fast and touch-free as possible. Download the free Church Center App to your phone. Search for Hyde Park Pres and create your personal account. Here's a quick video. When you arrive, please check in, then show the bar code to the Greeter and your name tags will be printed out. However, you are welcome to join us without that procedure.
Our nursery is open from 9:30 – Noon for children ages 0-3.
Children 4 and older attend church with their families.
Come early at 9:30 before the 10:00 am service for coffee, talk & prayer in the Hospitality Hallway.
Sunday school classes for children and adults are offered at 11:00 am after the worship service. Check out the Small Groups page for current classes.
For directions on how to get here, you can see the map below: