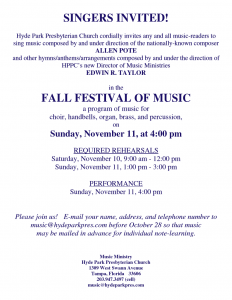 Fall Festival of Music is Coming in November!
The FALL FESTIVAL OF MUSIC on Sunday, November 11, at 4:00 pm, is a month away, yet every day more details fall into place that predict this concert will be one of the most exhilarating events ever held at HPPC.  A Festival Choir comprised of HPPC's Chancel Choir augmented by singers from various area churches and community choruses, a brass and percussion ensemble, the Spirit Ringers handbell ensemble, a guest organist/recitalist, a guest conductor/composer (the internationally-known Allen Pote), and lofty congregational singing will raise both the roof and the goosebumps.  Don't miss HPPC's first-ever FALL FESTIVAL OF MUSIC.
In His Service,
Edwin R. Taylor,  Director of Music Ministries
Director of Music Ministries
Mr. Edwin R. Taylor is  our  Director of Music Ministries. Edwin is a life long church musician and is an accomplished composer/arranger/organist and director. Edwin became part of our staff in July, 2018. His expertise and talents  bring excitement and new ideas to our program. Join us and see why we are so delighted that he has joined our worship team. You can learn more about him at his website, www.EdwinRTaylor.com.
Each week, Edwin will share something about the music presented in the traditional Sunday service. Something sweet will come from HPPC's Musical Box of Chocolates.
Chancel Choir
The Chancel Choir sings weekly at the
Traditional Worship Service and at special services throughout the church year.   Rehearsals are Wednesday evenings, from 7:00 until 9:00 p.m. and on Sunday morning, except during the summer. Want to make music with us? Please join us for rehearsal soon!
Spirit Ringers

Spirit Ringers, the HPPC handbell choir, rehearses on Tuesday evenings from 5:30 to 7:00 p.m.  The choir currently plays five octaves of English handbells and three octaves of handchimes.  The choir plays  almost weekly during Advent and Lent and at other times during the school year.  Spirit Ringers also play for other events.
New "ringers" are always welcome to join this enthusiastic group.
If you are interested in joining Spirit Ringers or the Chancel Choir, please contact the Minister of Music at  music@hydeparkpres.com  or call the church office.
Praise Band
The Contemporary Worship  Band loves the opportunity to play music which leads people to experience God.  If you have experience playing in a band, play an instrument, are interested in singing with the  Band or assisting with sound, lighting, etc., please speak with the Band Leader, Spencer Shick, for details about how to get involved.
Contact Spencer at shick.spencer@gmail.com or 813-317-4250.