Our Staff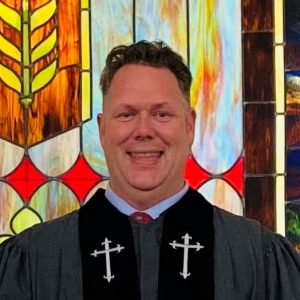 Rev. James D. Friesen
Email: Pastor@hydeparkpres.com
Telephone: 813-253-0069 extension 1
Rev. James D. Friesen joined HPPC as pastor in September 2016. Originally from St. Louis, Missouri, he graduated from Southern Illinois University and worked for 15 years as a successful salesman. Unable to ignore God's call, he earned his Master's of Divinity from Dubuque Theological Seminary and has served churches in Iowa and Oregon.
Rev. James completed training in Clinical Pastoral Education as a hospital chaplain and is active with The Christian Forum, a group of area pastors from various denominations. As part of the PCUSA's wider community ministry, Rev. James chairs the Commission on Ministry for the central region of Tampa Bay Presbytery.
James and his wife Sarah have been married over 25 years and have three children: their daughter Maggie attends University of Florida and sons John and Paul are enrolled at Southern Illinois University.
Ilma De La Rosa
Early Childhood Coordinator
Email: children@hydeparkpres.com
Originally from Brazil, Ilma moved to Tampa in 2008, where she has been involved in children's ministry at area churches. At Radiant Church in South Tampa, she coordinated the nursery along with parents and volunteers for all services. Ilma joined HPPC in the summer of 2021, and in addition to teaching, she coaches, schedules, trains and encourages volunteers, and ensures that all child safety protocols are upheld.Ilma holds a Master's degree in youth and family ministries from Grand Canyon Theological Seminary and earned her Bachelor's in Library/Information Science at University of Sao Paulo State. Ilma is fluent in English, Portuguese and Spanish, and enjoys summer mission trips teaching Vacation Bible School in South America with her husband Ricky.
Arnel Senson,
Music Ministry Associate
Email: music@hydeparkpres.com
Originally from Virginia Beach, Virginia, Arnel has over 24 years of experience in traditional, contemporary, and modern music ministry. He received a Bachelor of Music from Old Dominion University in 2004. He has led worship at over 100 churches as a director, organist, pianist, guitarist, and drummer. In 2010, he recorded with Doc Holiday, has been a producer for Boys II Men, N*Sync and Britney Spears, and was a pianist and DJ for Royal Caribbean Cruises. He is dedicated to deepening his connection with God and encouraging others to grow in faith. You will often see his young daughter Tala at church with him.
Bailey Dean
Audio-Visual Technician
Email: techteam@hydeparkpres.com
Born and raised in Florida, Bailey spent the last nine years working with Anona United Methodist Church as a volunteer and later director in their children's ministry program. His career started by simply pressing the space bar for a slideshow. Bailey soon took over as the program's technical director, leading a team and serving the church. After graduating with his A.A. and certification in Audio/Video/Lighting production, he has expanded into more roles, both here at Hyde Park, and others in the Tampa Bay area.
Cheryl Cox
Organist
Email: cherylgcox@msn.com
Cheryl has been serving at Hyde Park Presbyterian Church as a supply organist and choir accompanist for several years. She previously held organist positions at several churches both in Florida and Western New York, as well as directing adult, children and handbell choirs. Cheryl is a music education graduate of Crane School of Music in Potsdam, New York, and received her Master's degree at State University College in Buffalo. She and her husband, Michael, moved to Florida in 2002 to escape the winters up north, and are now retired from government jobs. They enjoy traveling, watching sports, cats, and visits from their three daughters and 9 grandchildren.
Office Administrator (9:30 am noon M-Fri, )
Email: office@hydeparkpres.com
Telephone: 813-253-0069
Melissa Rose
Financial Secretary (Mondays)
Email: finance@hydeparkpres.com