Times and Location
Here at Hyde Park Presbyterian Church, we are pleased to offer two services Sunday morning, with Adult Bible Study and Sunday School in between.
If this will be your first time worshiping with us, we're very excited to meet you! Please head over to the New Here? page to learn more about Sunday mornings at Hyde Park Presbyterian Church.
Sundays @ HPPC
9:15am – Crave Contemporary Worship
10:15am – Coffee & Fellowship (CONNECT)
10:25 am – Bible Study / Discussion /Sunday School for All Ages & Nursery
11:15 am – Traditional Worship (Sanctuary)
11:15 am – Children's Church & Nursery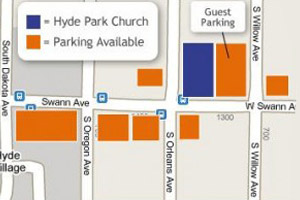 Directions & Parking
Hyde Park Presbyterian Church
1309 W. Swann Ave.
Tampa, FL 33606
Directions: Enter your address in the map below to get directions!
There is guest parking next to the Willow Ave. entrance of the Church. If you are a guest, we invite you to park in one of these spaces. Regular attenders may park elsewhere in the parking lot, on the streets,  or in one of the nearby parking lots shown on the map to the left.
For directions on how to get here, you can see the map below:
Get Directions:
Your Location:

Avoid Tolls
Avoid Highways
×