Times and Location
Welcome!
Please join us as we worship and fellowship during this time. A live, in-person 30-minute worship service is at 5:45 pm on Sundays, beginning Sept. 13. Virtual Worship Services, Kid's Church and Morning Jam are posted online at 9:00 each Sunday and classes and small groups are held via zoom meetings.
Thank you for spending a few moments looking around our website. As a church family we are committed to share God's story of salvation with our neighbors through worship, service, learning and fellowship. Watch for us in and around the community as we serve others.
We hope that all people will feel welcomed here. Learn about our programs and get a glimpse of who we are. We'd love to get to know you.
Rev. James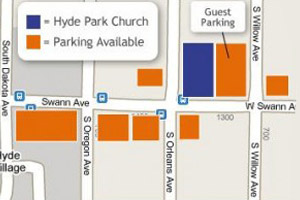 Directions & Parking
Hyde Park Presbyterian Church
1309 W. Swann Ave.
Tampa, FL 33606
Directions: Enter your address in the map below to get directions!
There is guest parking next to the Willow Ave. entrance of the Church. If you are a guest, we invite you to park in one of these spaces. Regular attenders may park elsewhere in the parking lot, on the streets, or in one of the nearby parking lots shown on the map to the left.
For directions on how to get here, you can see the map below: