Schedule A Wedding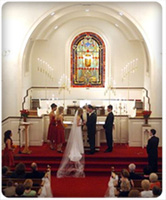 Hyde Park has a beautiful sanctuary for your wedding. We are glad to host your Christian wedding service in our facility. The guidelines below will help you decide if our venue is right for you. Our pastor is the officiant for all ceremonies held in the worship space.
Call Dolores, our Administrative Assistant, at 813-253-0069 and inquire whether your proposed wedding date is available. Weddings are scheduled from 6 to 12 months in advance.
At this time you will be asked to provide some basic information, and your wedding is then penciled in on the master church calendar. This date remains tentative until a meeting is set with the Pastor and you have made a deposit.
The Pastor (Rev. James) will contact you to discuss wedding guidelines and answer questions you might have.
After your discussion with the Pastor, which may be face to face, the plans will be finalized and your deposit will be needed. Check here for fee schedule.
Rev. James will set up a schedule with you for the counseling sessions to be completed before the wedding is performed.
A meeting will also be held with our wedding coordinator. If you have further questions, please email us or call 813-253-0069, and speak with the office personnel.